Read original story at: https://clevelandmagazine.com/style/shops-boutiques/articles/why-the-new-play-maysie-dollhouse-needs-to-be-on-your-radar
Why The New Play Maysie Dollhouse Needs To Be On Your Radar
With magnetic, interchangeable pieces, local maker Kayla Lupean's newest creation is perfect for families looking to take fun on the go.
Kayla Lupean was already busy as a photographer and single mom before December 2020. After tucking in her 3-year-old daughter Elsie on Christmas night, Lupean settled in front of the TV. Decompressing at the end of holiday pandemonium sounds inconspicuous, but for Lupean, inspiration struck. 
"I can't really explain how it happened," Lupean says. "I saw a suitcase. Instantly, I thought, I wonder if there's a dollhouse in a suitcase. Is that a thing? That's got to be a thing." 
Lupean Googled it — and didn't find anything like what she had in mind. So she started building prototypes for her idea, the first from a vintage candy tin she found on eBay. The tin's ability to open on both sides was key. 
"As soon as I saw that, I knew this is what it has to be," Lupean says. "The inspiration of the case now is from that antique." 
After learning from a production design firm it would take 12 weeks to draw up the product, Lupean took matters into her own hands. In three months, Lupean became the founder of Play Maysie, a lunch pail-esque portable dollhouse, made for sustainability, inclusivity and practicality. 
"I knew from the moment I had this idea I had to do it," Lupean says. "I have never felt that certainty about anything in my life other than adopting my daughter."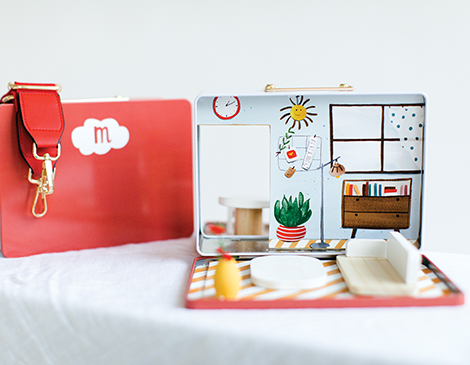 Maysie — a mix of both Lupean's and her daughter's middle name, May, and Elsie's first name — isn't the end of Lupean's daughter's influence. For every three preordered Play Maysies, Lupean plans to donate one to youth entering foster care. 
"Watching my toddler play, I realized the importance of play in a child's life, especially when they're experiencing something traumatic, like foster care," Lupean says. 
Built with foster kids and toddlers in mind, Play Maysie's magnetic, interchangeable floors with attached furniture maximize play time and reduce missing pieces. 
"Kids do not do well with clutter, the same way adults don't," Lupean says. "They are not going to go searching through a bin to find matching pieces. They play with what is easily accessible." 
Caregivers searching for toys that allow free play, reduce plastic and build social and emotional skills vital to any gender may be one clientele that helped Play Maysie meet its $25,000 Kickstarter goal in two weeks. Lupean, who is accepting preorders now through the Play Maysie website, expects the first rollout of her toys to be ready by November. 
"I was blown away and really grateful to see the response," says Lupean.